Would you like to win a £150 (approx. €185) gift certificate to spend on www.wayfair.co.uk? Amigo, look no further, because we're giving one away this month right here at Food Fiesta!

All you have to do is SUBSCRIBE to our newsletter and you're IN! And if you're already subscribed, your name is already in the hat!*

Check out their fab range of kitchen and dining products. You can get a lot of awesome goodies with £150! One lucky winner will get to really treat themselves this Christmas... or perhaps tick a few names off their Christmas list: nice!

Here are just a few things from the kitchen & dining sections that we would definitely recommend...

Vamos... subscribe and tell your friends!

*Wayfair T&Cs: Open to residents of Ireland and the UK only. Giveaway ends 5th December 2014 at midnight GMT. The winner will be chosen at random and contacted directly by Wayfair.co.uk to arrange the freebie shopping spree!


EDITED on 08/12/2014:

And the lucky winner is Dara Moloney of Dun Laoghaire, Co. Dublin! Congratulations, Dara! Enjoy your little online spending spree... and do let us know what goodies you choose! xox

Powered by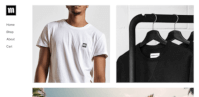 Create your own unique website with customizable templates.