Hi friends! Just a quick update to let you know there are still a few spots available on our "Marisco Fiesta" cooking workshop Thursday night, 28th June! It's all about fish and seafood, so if you like all things fishy, drop us a line!
Thanks to all of you who have already "liked" our new Facebook page. We're delighted to be putting ourselves "out there" and are so thankful for your support. Keep on spreading the word and, remember, anyone who "likes" the Food Fiesta page before 30th June will be in with a chance to win a pair of cooking workshop vouchers for the night of their choice!

I can't stay, must dash. Off to have some fun at tonight's Red Hot Chili Peppers concert in Croke Park with our eldest son, Liam. See? Even our musical tastes are "foodie"- influenced around here ;-)

Fun fact: We're long time RHCP fans and this will mark my fourth time seeing them live in concert. I can't decide whether this officially counts as Liam's first or second RHCP gig though, since his last time was on the inside of my very pregnant belly! That was almost exactly ten years ago... and, judging by the all the kicking he did that night, he was already a fan ;-)
Powered by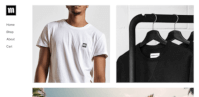 Create your own unique website with customizable templates.