We're still on a high over here, folks. What a weekend it's been! We kicked off the excitement by launching our
online shop
. Have you
checked it out
yet?
We've been working on the shop in the background for quite some time, so I'm not going to lie, it was pretty nerve-wracking to finally go live! We want you to know it's still very much a work in progress... we have dozens of new products to add (cookware, sweet treats and conserves top our list!), so stay tuned!
* * * * * *

But the shop launch wasn't the only thing that had us buzzing over here this weekend. Our excitement mounted even further when this happened:
If you follow us on
Facebook
,
Twitter
or
Instagram
, you already know that we were pretty excited about Jaime's
mention
in yesterday's
Sunday Times
food section! We're honoured and so grateful for the exposure. Thank you, Katy, for including Food Fiesta in your fantastic article, and to Brian for taking that very dashing picture of Jaime and his tasty paella! We'll be saving the press clipping for posterity :-)
* * * * *

After all that, we topped off our weekend with a special
Spanish foodie night
at our friends' house in Delgany, Co. Wicklow. Rachel and Robert invited four other lovely couples over and Jaime gave a cooking workshop with the following yummy tasting menu -everything went down a treat!:
Setas a la plancha con ajo y cebolleta en aceite de perejil sobre una cama de jamón ibérico pata negra
Griddled wild garlic mushrooms and spring onion with parsley olive oil on a bed of "pata negra" Serrano ham

Paquetitos de pasta filo rellenos de bonito con pimiento del piquillo y champiñon salteado en cama de salsa vizcaína
Filo pastry parcels stuffed with fresh tuna, piquillo peppers and sautéed mushroom on a bed of Bay of Biscay sauce

Rape a la plancha con alcachofa a la picata y yemas de esparrago a la vinagreta
Griddled monkfish with artichoke in 'picata' and white asparagus tips in vinaigrette

Conejo al sofrito con acelgas al pimentón de la Vera y pimientos del padrón
Garlic rabbit in 'sofrito' served with Swiss chard in paprika and padrón peppers

Degustación de arroz negro con alioli y paella de conejo
Tasting of black rice with ali-oli and rabbit paella

* * * * *

With all that goodness, I'm guessing it might be a while before we have a weekend as fun as this one again! But, you never know... we're certainly game ;-)

We'd like to thank everyone who's shown us such kind encouragement and support so far! This homemade little business of ours feels like it's really coming together! We'd love your feedback, so if you come across any broken links or glitches on the website, or just have a suggestion or a request, please let us know –we appreciate all input!

And thanks for being on the other side of the screen, dearest reader. Hopefully, some time soon you'll be just across the Food Fiesta table.

Besos,

Vx

Powered by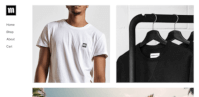 Create your own unique website with customizable templates.