Sivaris Mediterranean rice - 1kg sack
SKU:
Sivaris Mediterranean rice is an absorbent, short-grain rice variety that's perfect for a whole host of Spanish and Mediterranean dishes. Recipes such as rice 'a banda' and baked rice will turn out just right.

This 1 kilo format comes in a pretty cloth sack.
Powered by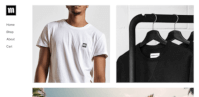 Create your own unique website with customizable templates.