Sivaris long-grain rice - 1kg sack
SKU:
Long-grain rice is faster to cook and less absorbent than 'bomba', round or Mediterranean rice, which means it's perfect for loose, fluffy rice dishes, such as rice salads or curries.

This 1 kilo format comes in a pretty cloth sack.

Powered by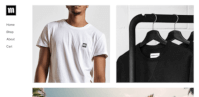 Create your own unique website with customizable templates.