Anchovy fillets from the Bay of Biscay - Serrats - 100g jar
SKU:
Serrats preserves only use "engraulis encrasicholus" anchovies of the finest quality captured at the best time of the anchovy season, between April and June, in the Bay of Biscay. They undergo a meticulous handmade process, very similar to salted anchovies, which maintains their original aromatic qualities and are preserved in olive oil, which further enhances their delicious taste.


Powered by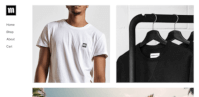 Create your own unique website with customizable templates.