Piquillo peppers by LC Catedral de Navarra - 290g jar
SKU:
Red, small and sweet... these piquillo peppers by LC, 'la Catedral de Navarra', hold the coveted 'piquillo' denomination of origin, grown and packed in Mendavia, Navarra.
Harvested between September and November and dry-processed so as not to dilute the intensity of the freshly roasted pepper, these flavoursome delights are perfect for
making seafood stuffed piquillo peppers, a Food Fiesta star recipe!
Powered by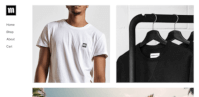 Create your own unique website with customizable templates.