Arbizu "chistorra" - 220g vacuum sealed
SKU:
Chistorra is a semi-cured chorizo sausage made using minced pork (panceta and dewlap), paprika, garlic, rosemary extract, salt and a little water. Arbizu, a family business based in Navarra since the 1960s, hang-dries its chistorras for four to five days and then vacuum seals them, ready for you to cook and enjoy. Best griddled, barbecued or flame-grilled. Try some on a piece of fresh baguette... I bet you'll be hooked!
Powered by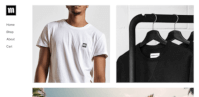 Create your own unique website with customizable templates.